Dominion Energy is a power and energy company that operates in 16 states and maintains over 6,600 miles of overhead electric transmission lines in Virginia, North Carolina, and West Virginia. But Dominion, like most utilities, wanted to improve their operations through better data, safer processes, and more environmentally-friendly practices.
Here's how PrecisionHawk improved Dominion Energy's efficiency by developing a drone-based inspection solution.
Many utilities have their inspection teams capture a standard set of images and send them to their data engineers for analysis. But other utilities, like Dominion, do their inspections in real-time: the teams inspect each structure but take images only of equipment and components that meet the criteria to be considered an Area Of Concern (AOC) for Dominion Energy.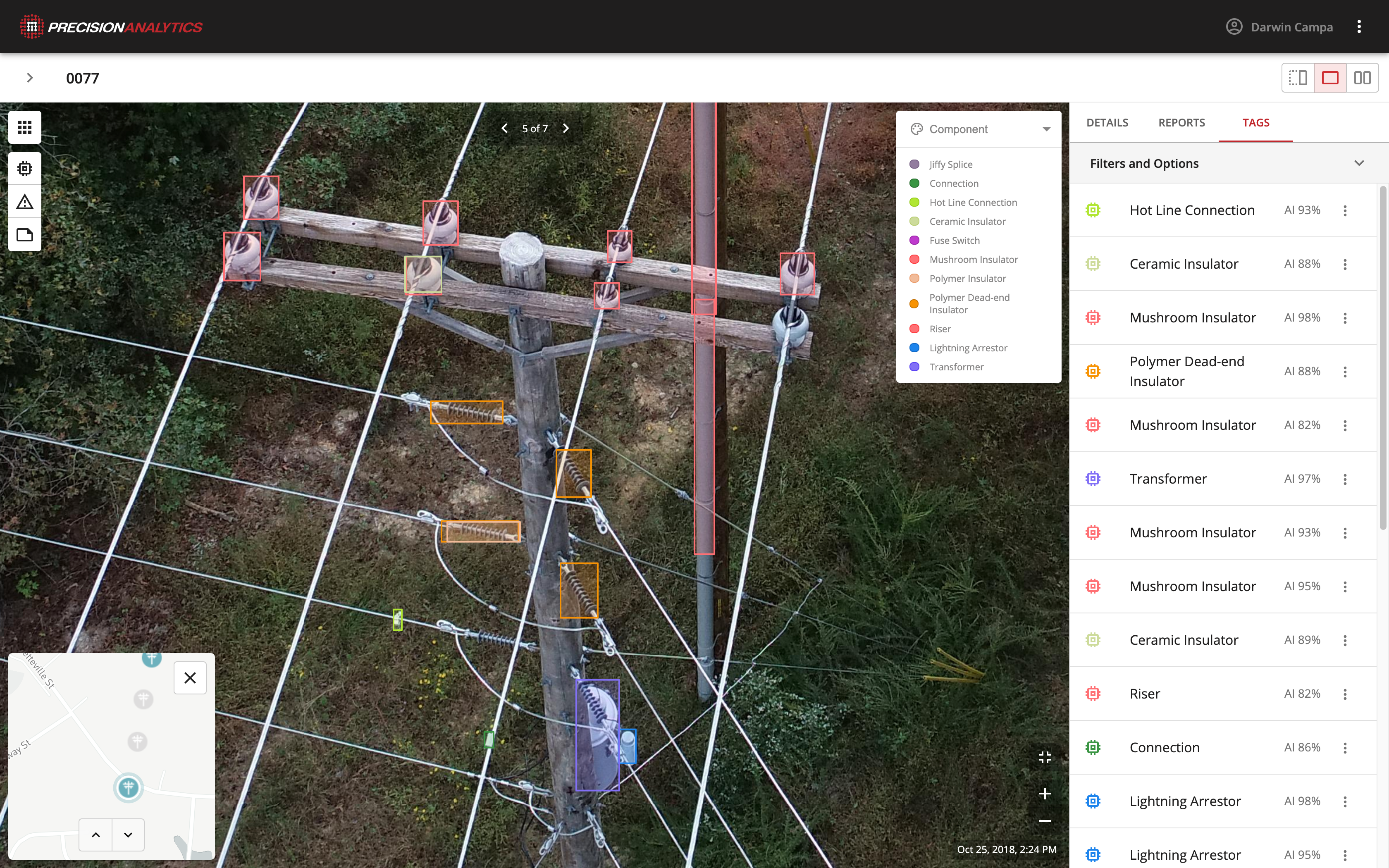 how it works
One or two crews, each consisting of a pilot-in-command and a sensor operator, work to efficiently inspect 30 or more assets per day. They use multi-rotor drones outfitted with a sensor with an optical zoom lens, which allows the pilot to capture crisp images of each asset. The sensor is so high-resolution that the pilot can even read the serial numbers on the hardware.
Images showing AOCs are then transferred to Dominion's analysts; they then inspect the images to ensure they depict AOCs and put together reports for the utility's key stakeholders. If the PrecisionHawk teams run across any critical findings in the field such as missing bolts, backed-out cotter keys, or cracked insulators, they notify Dominion immediately so the utility can expedite repairs.
One benefit to in-the-field inspections versus the traditional method of inspecting the data after collection: "When PrecisionHawk goes out, they're identifying the defects and not just taking pictures," says Angelita Gardner-Kittrell, Manager of Forestry & Line Services. "That eliminates the amount of data that has to be sorted through."
PJM, the regional transmission organization of which Dominion is a member, requires utilities to perform CVIs, at a frequency determined by the individual utility. PrecisionHawk performs roughly half of the CVIs on one-sixth of Dominion's assets each year, taking PrecisionHawk only five to six months to complete.
---
Download the full Dominion Energy Case Study, to learn how we helped Dominion enrich their data and empower action.