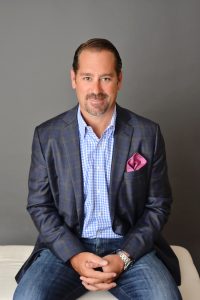 At PrecisionHawk, we're pioneering drone technology for the commercial sector. It's made possible by our people.
Daryl Watkins brought his sales leadership expertise and UAS experience to PrecisionHawk in July. With a personal and professional interest in drones, Daryl has a unique vision for drones in the insurance industry. As our Director of Business Development for Insurance Solutions, he has found a career that allows him to build relationships with key players across the insurance and drone industry. With PrecisionHawk's multilayer aerial intelligence solution, Daryl is helping insurers make assessments and responses more efficient.
What gets you out of bed in the morning?
My mind is always in motion, so once I'm awake, I'm up. I'm excited to see what's going on in the space each day as well as where I can bring value to PrecisionHawk, our partners, and our clients.
Before working at PrecisionHawk, what was the most unusual or interesting job you've ever had?
About three years ago, I started my own aerial photography company after a friend of mine let me fly his drone at a barbecue. I knew I could do something productive with it, even before I landed. When I was a kid, my mother used to chase me around with her camera. At the time I hated it, but as I got older, I developed that same passion for photography (and chased our own kids around with a camera). I've always been interested in technology and flight, so starting an aerial photography company seemed like a natural and obvious move.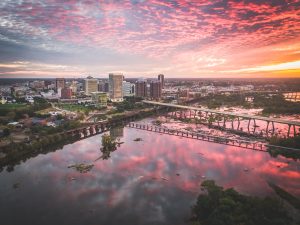 Being able to combine my knowledge in the space with my business background has allowed me to truly craft the perfect job description (and run with it). Sunrises are, by far, my favorite time to fly. The light is right! Being a Virginia native, I have friends and family all over the state so I take my gear wherever I go.
When I take something on — whether personal or professional — I rarely just dabble in it. That's the case with the drone space both from a personal and a professional level. I've worked hard to immerse myself in the industry.
Why did you choose to work at PrecisionHawk?
When I was considering a career change, I learned there weren't hundreds of well-funded, established commercial drone companies with a successful leadership track record in the marketplace. I wanted to make use of my relationships in the insurance and do it with a company I could trust. Once I spent a couple of days with the folks at PrecisionHawk, I knew this was where I wanted to be.
I was also drawn to PrecisionHawk because of our focus on the enterprise. Outside of drones, I've spent the last 24 years in telecommunications and wireless technologies, most recently in-vehicle telematics. Vehicle telematics helps insurance companies collect data from daily driving and then make informed business decisions on that data so they can improve the policyholder experience. Similar to the telematics space, we're helping clients deploy technologies to gather data and make informed business decisions on that data. It's a telematics offering to a certain extent but we're using drones as the data collection method instead of cars.
It's an amazing industry to be a part of, not just as a photographer, but from a mapping, sensor, hardware and enterprise standpoint, too. I'm interested in helping companies integrate drone programs into how they do business.
How has PrecisionHawk helped you in your professional development?
I feel that PrecisionHawk is doing a great job shaping the industry and contributing to its growth. We're doing that not just with the products and solutions that we're developing, but also in how we are helping companies build out their technology strategies for the future. We're partnering with a number of different companies, actively participating in a myriad of panels and attending events all over the world. It's a great feeling to know that I am helping to craft a playbook for years to come.
How do you see drone technology evolving over the next five years?
People have said that the drone space is in its infancy for a while now, but there have been some pretty significant changes over the past 6-12 months. The adoption of drones in the enterprise seems to be increasing.
A separation between what I call the "Pros vs. the Joes" has emerged. We work with some very large companies and those organizations aren't just looking for a drone/hardware vendor. They can buy drones from 100+ different companies around the world. Enterprises want scalability. They want to know how they can deploy their programs and make them successful, and that's where we shine. The organizations that are going to be successful with their drone programs over the next five years are those that put their trust into a market leader like us to help them scale. We are also helping a number of people at organizations become the champions for innovation. This reinforces to their leadership that they made the right decision in selecting PrecisionHawk as their partner.
What is the biggest benefit you believe drones will offer?
We're seeing drones improve the collection of aerial business intelligence and that incorporates everything from risk monitoring and assessment to change detection to claims management and fraud prevention/detection.
We've developed a multi-tiered approach to prioritize where insurance companies focus first in a post-disaster situation. We have the ability to get satellite imagery first, drill down one more layer with manned aircraft imagery, and ultimately use either our own flight services crew or an organization's drone operators to get to the areas needing assessment first. We can take an insurance company's PIF (Policies In Force) data and overlay that onto a map to help them determine precisely where to focus first.
The combination of those levels provides a more efficient path to getting an area assessed for an insurance company. After the three major hurricanes that impacted the U.S. this year, I think a lot of insurance companies realized that they weren't as prepared to scale drone technology as they would like to be. We know that the next disaster will eventually come, so we're doing our best to make sure organizations are educated on and prepared with our solutions and strategy, allowing them to respond more efficiently and gather more accurate data.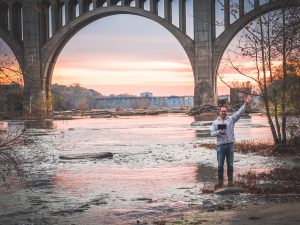 If you could give your 21-year-old self a piece of advice, what would it be?
The best advice I'd give would be to step out of your comfort zone. Walk right up to the line of your comfort zone and take one step over it. Doing this is going to yield some results that most people don't get (and no one on the outside will ever know that you went beyond your comfort zone).
If you could choose anyone to be your mentor, who would it be?
I know people usually pick famous people like Bill Gates, Elon Musk and Steve Jobs. All of those people are doing some fantastic things, but I met my mentor at Nextel in 2004.
Nextel was one of the first companies in the wireless space to really force the competition to innovate. They brought the first push to talk phones to the market. You remember them…they were the intrusive, loud and obnoxious flip phones/Blackberry's that sounded like walkie-talkies. They changed the way people in public sector and other service-related industries communicated. The motto at one point was "Nextel. Done." The company was special, the employees were just as special and we did what it took to win.
He was my Area Director at the time and his leadership helped cement Nextel as an industry leader.
In working with and leading different groups of people, it always came back to three key things: people, operations, and strategy. I learned early on from him that focusing on those three things, either as an individual or as a sales leader, would lead to success.
Do you have a motto or personal mantra?
I would say, if ever offered a breath mint, take it.
With a vested interest in drone technology and a passion for helping companies grow, Daryl has brought his valuable expertise to PrecisionHawk and we're happy to have him as part of our team.
If you're interested in joining the PrecisionHawk team, you can view all of our open opportunities here.